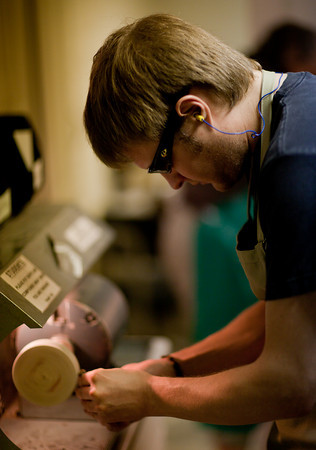 The Clear Creek Academy of Jewelry and Metal Arts is dedicated to teaching people of all ages how to make fine jewelry. Our programs teach the fundamental skills of silver and goldsmithing while allowing students the opportunity to create their own designs. Stretch your imagination with the support of our staff of professional metalsmiths who offer one-on-one instruction and feedback in small classes of eight to ten students or through private instruction.
Learn about our Core Classes to help you get started, then see our Class Catalog to learn about our upcoming offerings. Also, check out what our students are saying about our classes.
Got questions? Don't hesitate to contact us. We're happy to help!

Nestled in the historic east Highlands, the Navajo Street Arts District boasts a strong and exciting alternative arts scene. The District's galleries and artists' co-ops have been bringing the best in cutting-edge art to Denver for more than two decades.
First Fridays on Navajo Street
Join us on the first Friday of each month from 6–9 pm for First Friday on Navajo Street. This art walk and open house is a great opportunity to get inspired and visit the Clear Creek Academy, check out our facilities and see work by our instructors and students in our gallery.